A Guide to Plant-Based Cooking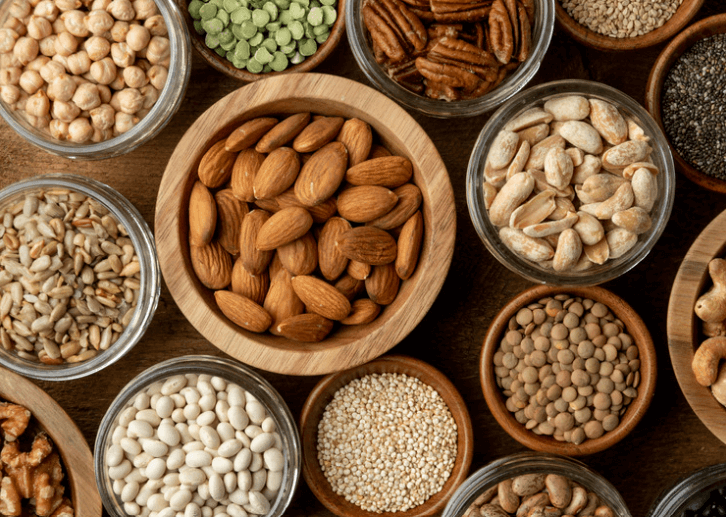 While you might know that protein is an essential nutrient for muscle health, it also helps our body produce antibodies to fight infections. Seeking out plant-based protein sources can help get you on the right track for lowering your risk of many chronic illnesses. These protein sources are also great because they're full of fiber, so they'll help to keep you fuller for longer. If you're looking to cut back on your meat intake or are simply curious about what meatless protein options are, look no further! This article features nine sources of plant-based protein and two animal-based products (eggs and dairy), which are great low-cost protein options if you're comfortable eating animal products.
Beans
Benefits: Depending on the variety of bean, just a half cup can contain 6 to 9 grams. Beans also contain fiber which helps to keep you full.
Uses and Recipes: There are many ways to eat beans, both in sweet and savory forms. Try out these tasty recipes:
Lentils
Benefits: A half cup of cooked lentils (brown, green, or red) can add about 12 grams of protein to your dish.
Uses and Recipes: Lentils are a great addition to soups and salads, and can help to keep you full. Here are five lentil recipes to try:
Edamame
Benefits: One cup of edamame (not in its shell) has about 18 grams of protein.
Uses and Recipes: Edamame is a type of soybean that is a great snack or appetizer. If you're looking to add it as a delicious side dish, try out the following recipes:
Tofu
Benefits: For every 3.5-ounce serving, you'll get 8 grams of protein.
Uses and Recipes: Tofu is a meat alternative made from soybeans. It's a very versatile food that takes on the flavor of whatever you season it with. Also use it as a base for creamy desserts. Here are some great tofu recipes:
Grains
Benefits: While grains are a great source of carbohydrates, they also are a source of protein. For example, a half-cup serving of oats adds 5 grams of protein to your meal. Similarly, a quarter cup of uncooked barley or quinoa is about 5 to 6 grams of protein.
Uses and Recipes: There are wide varieties of grains that can contribute protein to your diet. Try out a few recipes below!
Green Peas
Benefits: One cup of cooked green peas has 8 grams of protein.
Uses and Recipes: Peas are a great way to add protein to various dishes, including pasta, soup, and stir-fry. Here are a few recipes that they can be added to, but don't be afraid to add them on your own even if a recipe doesn't call for it- they're very versatile!
Nuts
Benefits: Almonds have 7 grams of protein and pistachios have 6 grams. Although peanuts are technically legumes, they have 9 grams of protein for a quarter-cup serving.
Uses and Recipes: Nuts are a fantastic addition to salads, oatmeal, or simply as a snack by themselves. And don't forget about nut butters! Here are a couple of recipes to try out:
Seeds
Benefits: For every ounce, sunflower seeds have 8 grams of protein, and pumpkin seeds have 7 grams.
Uses and Recipes: Like nuts, seeds offer a nice crunch to various dishes and work great as a stand-alone snack. See the list below for a few recipes:
Vegetables
Benefits: While it may be unexpected, vegetables do have protein. For example, one cup of cooked Brussels sprouts has 4 grams of protein, and a cup of sweet yellow corn has 5 grams.
Uses and Recipes: There are thousands of recipes using vegetables that will offer you some protein quantity. Below are some tasty recipes that include Brussels sprouts and sweet yellow corn.
Eggs
Benefits: Eggs are a low-cost and nutritious source of protein, providing 6 to 8 grams with every egg.
Uses and Recipes: Eggs are always a good option for a filling breakfast, and they can also be a good snack when they're hard-boiled. See below for a variety of ways to prepare them.
Dairy Products
Benefits: Dairy products such as milk, cheese, and yogurt are all good sources of protein and calcium. Cottage cheese and Greek yogurt are two notable sources that both contain 13 grams of protein or more in every serving.
Uses and Recipes: There are many different ways to consume dairy. Greek yogurt is a versatile option that can be used in both sweet and savory dishes. It can be a stand-alone snack topped with a little bit of granola or the base of a delicious dip or sauce. Try the recipes below to see how you prefer them!
Source: