What Meals to Make With Canned Fish
Canned fish is a sustainable way to bring the catch of the day to meals. Tuna is the most well-known fish that is often bought in a can; however, there are other nutritious options that you can choose from, such as canned salmon, mackerel, and sardines.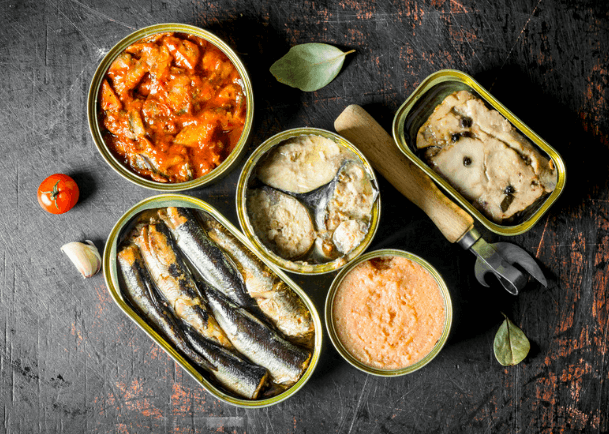 Canned fish is loaded with nutrients! It is protein-dense and rich in heart-healthy unsaturated fatty acids like omega-3 and omega-6.Fish such as tuna, salmon, mackerel, and sardines, are also a source of vitamin D, vitamin B12, choline, iron, and iodine. Canned sardines and salmon provide the bones with calcium.
Storage
Once opened, store canned fish in the fridge in an airtight container for 3-4 days. If unopened, keep fish in the pantry for up to 3 years. Also, check the "Best if Used By" date on the packaging.
Preparing
There is very little preparation with canned fish. It is ready to be eaten right out of the container. However, drain and rinse fish first to remove some sodium.
Uses
Canned fish is very versatile. Prepare canned tuna in tuna salad or tuna melt sandwiches. Don't like tuna? No worries, you can swap canned salmon or mackerel for something different! You can also use tuna and salmon to prepare burgers or fish cakes. Add sardines to toast, salad, pizza, and more. For added flavor, squeeze some lemon on sardines or mackerel. Try out one of our tasty NutitionForMe.org recipes that include fish!
Recipes
Sources