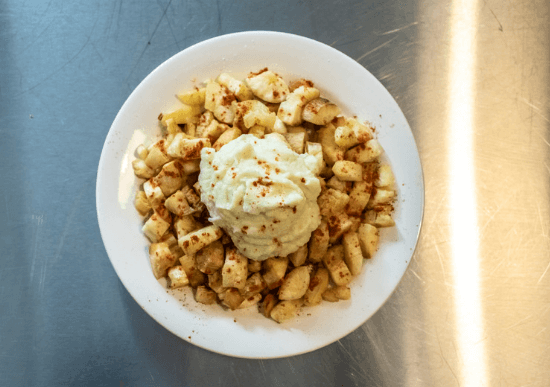 Yuca Fries
Thanks to their superior fiber content and lower glycemic index, these crispy yuca fries are often presented as a healthier alternative to fried potatoes, but you might find the roles reversed. They really are that good and do a great job of bridging the gap between regular fried potatoes and sweet potato fries. Serve with ketchup or any kind of aioli.
Equipment
Stovetop

Saucepan

Medium Skillet
Instructions
Peel most of the yuca, trimming off the tough end. Cut yuca in thirds. Stand each section on its end and carefully cut lengthwise into quarters.

Place yuca in a saucepan of cold water. Bring to a boil over high heat; reduce heat to medium and simmer until just barely tender, 5 to 6 minutes. Drain yuca on a paper towel-lined plate. Let cool to room temperature.

Heat olive oil in a skillet over medium-high heat. Add yuca and fry until golden brown and crispy, 2 to 3 minutes per side. Transfer to a paper towel-lined plate and let rest for a few minutes before serving.
Notes
Just be sure to boil the yuca first, since they can be toxic eaten raw in larger amounts. Why you'd ever want to eat a big pile of raw yuca is beyond me, but the legal department wanted to mention that regardless. Anyway, once boiled, they can be pan-fried as seen here, deep fried, or placed on a foiled sheet pan, brushed with oil, and baked at 425 degrees F, turning occasionally until browned and crusty.
Please note that on larger roots there may be a tough fibrous part running through the middle, which can be trimmed out after boiling. These didn't really have one, but you'll know if yours do.
You can also cut the yuca into smaller pieces for a home fries-style breakfast dish.
Nutrition
Nutrition Facts
Yuca Fries
Amount per Serving
% Daily Value*
* Percent Daily Values are based on a 2000 calorie diet.
Keyword
Olive Oil, Yuca Root