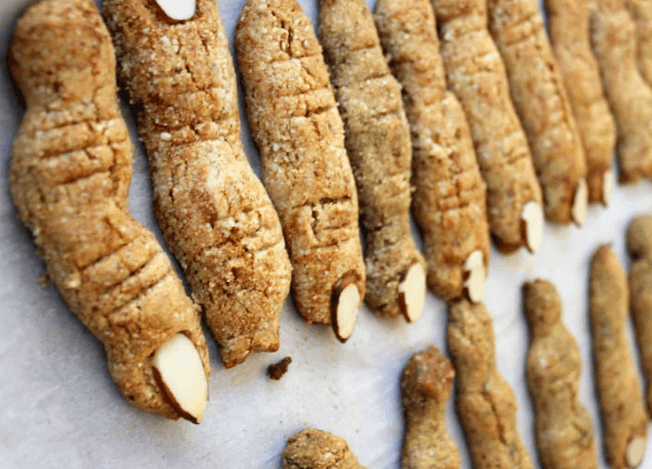 Witch Finger Cookies
These Witch Finger Cookies look scary, but they are made with very non-scary ingredients! This spooky Halloween wicked witch finger cookies and lots of fun is guaranteed for your next Halloween party.
Ingredients
1

Egg

1/4

cup

Butter

Unsalted and melted

1/4

cup

Honey

1/2

tsp

Vanilla Extract

1.5

cup

Flour

1/2

tsp

Baking Soda

1/2

tsp

Cinnamon

1/2

tsp

Salt

Almonds

Sliced

Raspberry Jam

Optional
Instructions
Whisk all wet ingredients together in a large bowl until well combined.

Add in the dry ingredients and mix until just combined. Place mixture in fridge for 5 – 10 minutes while you preheat the oven to 350 degrees.

After mixture has cooled slightly in the fridge, take about 1 tbsp of the dough and roll into a finger-like shape. Place onto a lined baking sheet. Repeat this until you have no more dough – it should make between 25 and 30 fingers. Press slivered almonds firmly into the tips of fingers to be the "fingernails".

Bake for 10 minutes, careful not to burn. Your cookies may need an additional 1 – 2 minutes. Remove and let cool! Once cool, serve with some smashed raspberries or jam as "blood". Happy Halloween!
Notes
Witch Finger Cookies Tips
Chill the dough! Yes, this is in a lot of cookie recipe instructions, and yes, sometimes you can get away with skipping it. But I would not recommend skipping it here. The melted coconut oil needs to harden a bit, as the heat from your hands when you roll out the fingers will melt it further.
Do not skip the accessories. The slivered almonds, the raspberry jam blood, and the slight indents in the fingers all contribute to the aesthetic of these cookies. If you are really short on time/ingredients, you could just roll out long cookies – but also, you should have some fun and remember these are meant to resemble fingers, not just "long cookie logs"!
Take your time! Rolling the dough to look like a finger takes a tiny bit more time than just rolling any dough into a log. And I say a tiny bit, because its really not much more, but it does make a big difference. Try rolling the dough with your fingers spread wide apart – this should naturally create the knuckles and curves of a finger. Use your hands to gently fold everything into place. Also, use a knife to make little wrinkles around the knuckles and joints!
Nutrition
Nutrition Facts
Witch Finger Cookies
Amount per Serving
% Daily Value*
* Percent Daily Values are based on a 2000 calorie diet.
Keyword
All-Purpose Flour, Almond Butter, Almonds, Baking Soda, Cinnamon, Egg, Honey, Salt, Vanilla