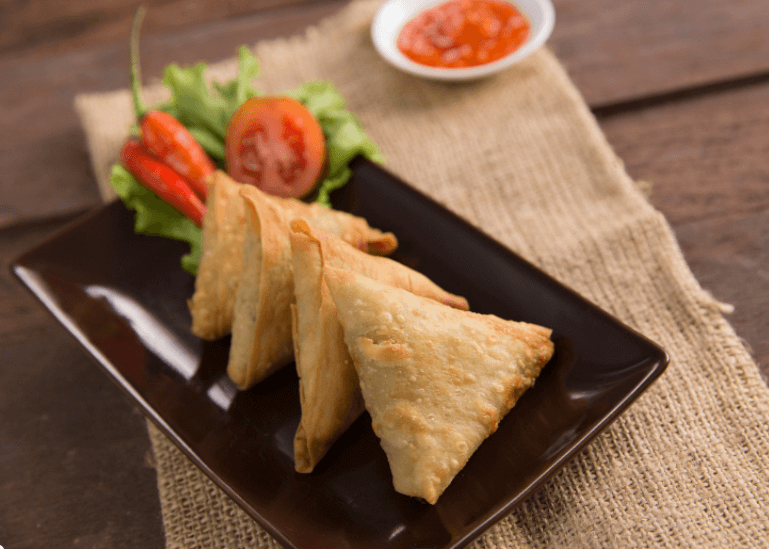 Hadil's Sambusas
Ingredients
1

lb

Ground Beef

Or ground turkey

1

bag

Vegetables

16 ounces, frozen; preferably peas and carrots

1

Onion

Sweet onion

5

Tortillas

Whole wheat

Oil

For frying; canola or vegetable

2

tsp

Cumin

2

tsp

Coriander

1

Tbsp

Garlic Powder

1

tsp

Chili Powder

1

tsp

Cardamom

1

tsp

Salt

1

tsp

Black Pepper

1

tsp

Lemon Juice

¼ of a lemon

¼

cup

Water

¼

cup

Flour

All purpose
Equipment
Stovetop

Frying Pan

Small Bowl

Medium Bowl
Instructions
In a small bowl, prepare the spice mixture.

Brown the turkey on medium heat. When cooked through, add the chopped onions.

When the onions are cooked and transparent, add frozen vegetables. Cook until bright and tender.

Add the spice mixture and cook until the mixture becomes more fragrant, about 3 minutes.

Add the lemon juice to the mixture. Taste and adjust flavors if necessary.

Once the filling is finished, mix the flour and water together into a medium bowl. Combine until it becomes a thick paste.

Cut the tortillas into quarters. With the rounded portion of the cut tortilla facing you, put a thin layer of the flour/water paste starting in the bottom center spreading it to the right corner.

Fold the corner over to the left side so that a pocket shape is formed.

On the left corner, spread flour/water paste in a thin layer along the outside edges starting from the bottom point of the previous fold, and outlining the tortilla up to the top corner of the previous fold.

Fold the left corner across to the right side, making a pocket shaped like a kite. Seal firmly so that the filling doesn't leak while frying.

Put the filling in the sambusa pocket, careful not to overfill so that it is still able to be sealed.

Using the flour/water paste, tuck the top corner into the filling, making sure that it is sealed shut. Repeat steps 8-13 until all the sambusas are filled and sealed.

Heat oil (about 1 inch deep) on medium-high heat (about 350°F if you have a thermometer). Add the sambusas to the oil and cook, flip with tongs until both sides are golden brown (about 3-4 minutes on each side).
Notes
Recipe makes 20 sambusas.
Make sure to taste the cooked filling to be sure you like the seasoning level.
Try adding fresh garlic, chilis, or fresh cilantro to the filling if you like.
Ground beef can be used in place of ground turkey.
If making a halal meal, be sure that the meat is halal certified.
Nutrition
Nutrition Facts
Hadil's Sambusas
Amount per Serving
% Daily Value*
* Percent Daily Values are based on a 2000 calorie diet.
Keyword
Canola Oil, Cardamom, Carrots, Chili Powder, Coriander, Cumin, Flour, Garlic Powder, Green Peas, Ground Turkey, Halal, Lemon, Lemon Juice, Lemons, Mixed Vegetables, Peas, Tortillas, Turkey, Vegetable Oil, Whole Wheat Tortillas