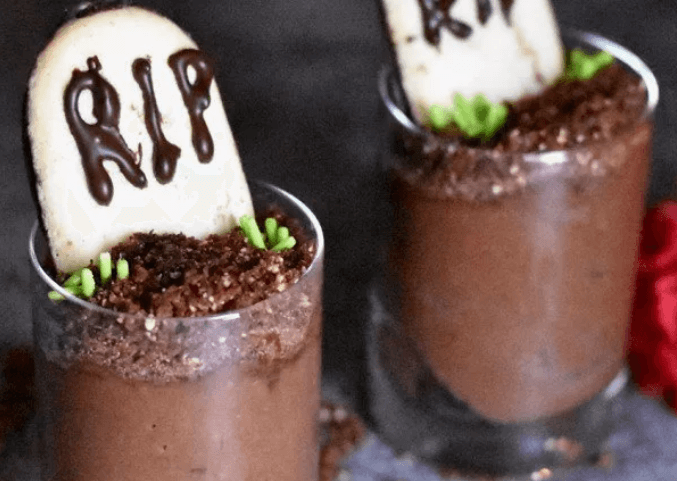 Chocolate Mousse Graveyards
Chocolate Mousse Graveyards is the perfect fun dessert for a Halloween celebration! Whip up this no-bake, fuss-free dessert with your kids and enjoy some family Halloween fun!
Ingredients
1 3/4

cups

Greek Yogurt

1/2

cup

Milk

1/2

cup

Chocolate Chips

Semi-Sweet, for mousse

2

Tbsp

Chocolate Chips

Semi-Sweet, for topping

1

Tbsp

Honey

1

tsp

Vanilla Extract

4-5

Oreo Cookies

Crushed

4

Milano Cookies

Green Sprinkles

Optional
Instructions
Pour milk in a saucepan and put it on low heat. When the milk warms up, add chocolate chips and stir them until they melt. (Don't bring the milk to a boil)

Once the chocolate chips are melted, remove the milk from heat and let it rest for 3-5 minutes. Add honey, vanilla extract and greek yogurt and mix it properly. There should be no lumps (you can even use a hand mixer for this)

Pour it into cup and let it chill for at least 2 hours.

Melt remaining chocolate, cool for 5 minutes and transfer the chocolate in a sandwich size ziplock bag, or a small piping bag.  You will use this to pipe the letters on the 'gravestone' (Milano cookie), so make sure that the hole is very small, or it will get messy.

Pulse the Oreos in a small food processor, or crush them in a large ziplock bag with the back of a skillet, until it reaches desired "dirt-like" consistency.

Top the mousse with the oreo dirt.  Insert one gravestone Milano cookie per glass, at an angle, about ½ way in. Make sure that a good portion of the cookie is still sticking out, and that the 'RIP' is very visible. Top with green sprinkles as grass, if desired. Your graveyard Chocolate Mousse is ready! Enjoy!
Notes
When piping the letters, RIP, on the tombstone, make sure that the piping hole is very small, or it will get messy.
This dessert can be made a day ahead of your Halloween party.  Prepare and pipe the mousse in shot glasses or cups, and chill overnight in the refrigerator.  Assemble the dirt and tombstone an hour before the party and stick them back in the refrigerator.  Take the mousse cups out of the refrigerator 10-15 minutes before serving.
If you are feeding a large crowd, you can just make a big batch of this mousse and assemble it in a large shallow glass tray for people to help themselves.
Nutrition
Nutrition Facts
Chocolate Mousse Graveyards
Amount per Serving
% Daily Value*
* Percent Daily Values are based on a 2000 calorie diet.
Keyword
Chocolate Chips, Greek Yogurt, Honey, Milano Cookies, Milk, Oreos