Spring is Here: A Guide to Fresh Spring Salads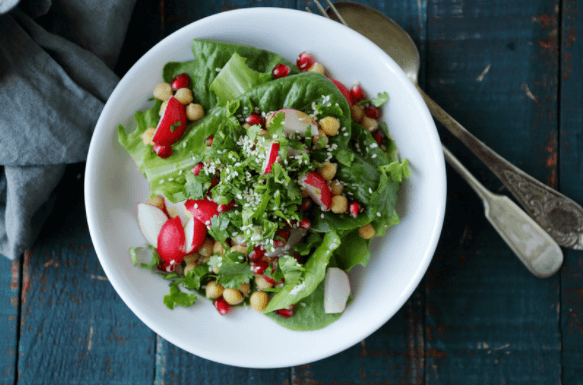 Spring is such an exciting season! Warmer and longer days are on their way, and with that comes many delicious fruits and vegetables to enjoy. Shopping for produce when it's in season is a great way to save money, and it ensures that the products you're buying are at their peak quality and freshness. It's hard to beat a ripe tomato in the summer or a crispy apple in the fall. Spring is a great season for many greens, herbs, and vegetables. What better way to enjoy them than in a colorful salad topped with a bright citrus vinaigrette?
Follow the guide below to make your own spring salad using a variety of fresh produce that you might have on hand this season.
Spring Salad with Citrus Vinaigrette
Ingredients:
(Amounts will vary based on the amount of people you are serving)
Greens of choice (arugula, kale, lettuce, spinach)
Vegetables of choice (radishes, asparagus, green onion, green beans, peas)
4 Tablespoons olive oil
2 Tablespoons citrus juice (lemon, lime, orange)
Salt
Ground black pepper
Fresh herbs of choice (basil, cilantro, dill, mint)
Optional: toasted seeds or nuts (pumpkin seeds, sunflower seeds, sliced almonds)
Instructions:
Rinse

Wash, dry, and cut vegetables into bite-size pieces.

Prepare the Vegetables

Combine vegetables into a bowl, drizzle with oil and sprinkle with salt and pepper.

Roast

Roast vegetables on a baking sheet in the oven at 425°F for approximately 25 minutes.

Prepare the Dressing

While the vegetables are roasting, make the vinaigrette. In a container with a lid, mix citrus juice, olive oil, salt, and pepper. Add thinly-sliced herbs. Shake the ingredients to mix.

Combine Ingredients

Once the vegetables are done roasting, add the vinaigrette to the greens. Plate the greens and scoop roasted vegetables on top of the salad. Finish with toasted nuts or seeds if available. Enjoy!