All about Fish: Cooking Techniques
Regardless of the cooking technique, a good rule of thumb to follow when cooking fish is that it will take approximately 8-9 minutes per inch of thickness. That said, it is always a good idea to keep an eye on your fish, and don't be afraid to take a fork and check your fish when cooking it. For additional assurance, fish must reach an internal temperature of 145°F. You will always want to brush it with a bit of oil before cooking, and a squeeze of lemon compliments any fish.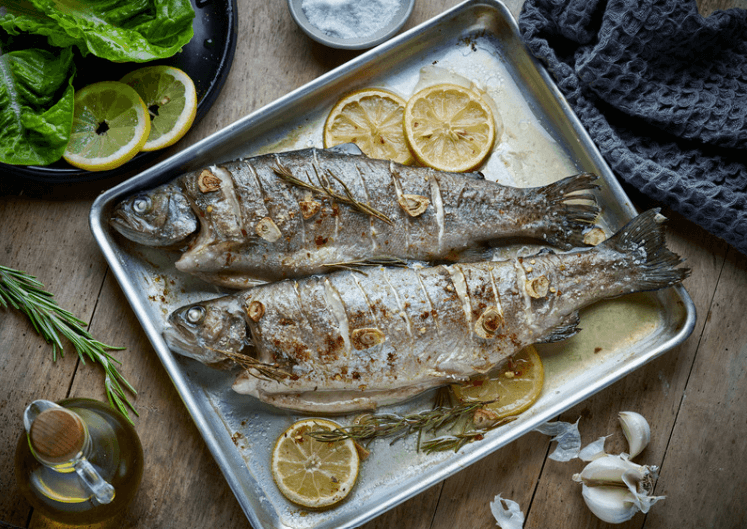 Baking or Roasting
Baking is done at a more moderate temperature (350°F) and roasting at a much higher temperature (400°F to 500°F). Roasting is best for whole fish or huge fillets. Your fish will also get done more quickly when roasting. Bake or roast on a baking sheet or in a baking pan that has been coated with non-stick spray. When baking or roasting fish, it is nice to put a few vegetables in the pan – onions, carrots, and zucchini are all good options. Add a bit of chicken stock in the pan (just enough to barely cover the bottom) to add flavor and keep the fish moist.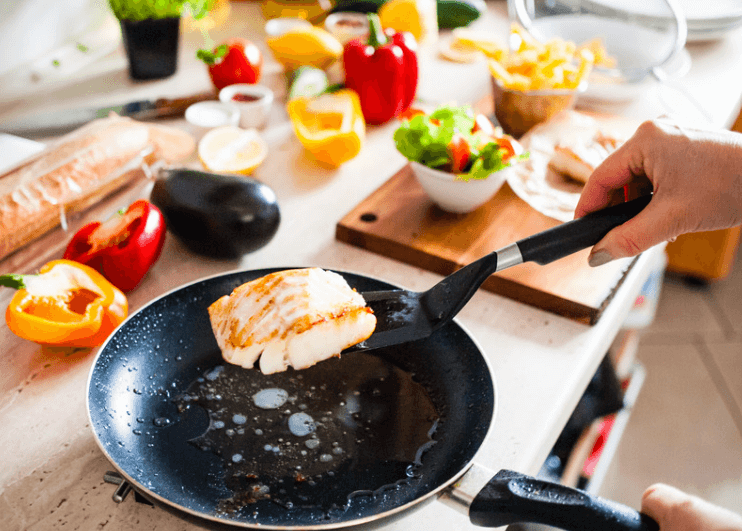 Sautéing
Sautéing is probably the easiest way to prepare fish. To sauté, preheat a skillet to medium-high heat with some oil or butter to cover the skillet's bottom. Place on the heat and let cook until lightly browned on the underside; turn and continue to watch until done. A nice preparation for almost any fish is to sauté the fish until just underdone. Remove from the heat and set aside. Sauté your favorite vegetables, and when they are nearly done, add the fish back in and finish cooking. A cup of marinara or a dash of teriyaki sauce can finish it off.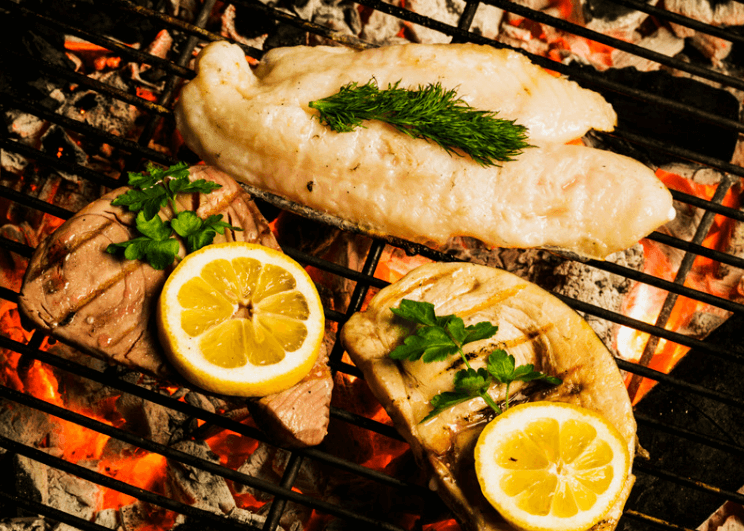 Grilling
Start with a hot fire with a clean grill rack that has been coated with non-stick spray. You can also use aluminum foil to wrap fillets partially. Brush the fish lightly with oil and season with salt, pepper, and any herbs or spices you enjoy. If the fish has skin on it, start with the skin side down and turn when it starts to look firm. If it is not a thick fillet, you can cover it and never turn it.
Broiling
You can broil any fish unless it is a large whole fish (more than 3 pounds, which would be better done roasted). Preheat your broiler for about 15 minutes. Position the rack as close to the heat source as possible and put the fish in a baking sheet or glass dish. If the fish is less than 1 inch thick, do not turn it as there is enough heat in the oven to cook the top and bottom. If your fish has skin, it should be skin-side down in the pan.
Poaching
Poaching is simply cooking in liquid. A little stock, water, or a combination of the two mixed with herbs or seasonings works great. Add enough liquid to cover the fish. Bring the poaching liquid to a boil in a skillet and boil for a few minutes to reduce and develop the flavors. Place the fish gently in the liquid and cook until done.